We at StreetLegalDrags.com will focus mainly on the Bracket categories of High School, Sportsman, Pro, Super Pro and Motorcycle.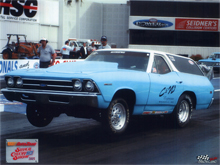 This site is dedicated to promoting safe and legal drag racing. Way to often-illegal street racing makes the news. Most always with a tragic ending. We here at StreetLegalDrags.com do not have the answer to stopping this type of activity and we discourage anyone from getting into a illegal street race and encourage everyone to get involved in street legal activities whether at you local drag strip or a city sanctioned safe and legal event.



RUN OF THE DAY
StreetLegalDrags.com will keep track and post the run of the day. Check back daily to see who's hot.

TRACK POINTS
Division 7 Points Available Here.

PHOTO GALLERY
Visit our photo gallery to see some of the hottest street legal drag cars competing today.

OUR APPAREL
Coming soon StreetLegalDrags.com logo shirts, hats, sweatshirts, mechanic shirts, and more.